Posted: 11 November 2018
Filed under: Architecture, Canberra, Childhood, Humour
| Tags: Architecture, humour, Muppets, Vampires
Leave a comment
Who is your favourite character from the Muppets?
Excluding Miss Piggy of course, because She is such a great hero and role model for us all, not to mention such a powerhouse amongst pigs, that I don't think it would be fair to make the rest of us compete on the same playing field as Her.
Mine is The Count. I loved him from the first moment I saw him. There are so many things about him that are absolutely great. Like, he's a vampire, yet he isn't all that scary. He's a really sharp dresser, with an intriguing, Bohemian-sounding (literally) Eastern European accent. He's highly educated, loves organ music, and is always happy. He made capes cool long before Harry Potter came along.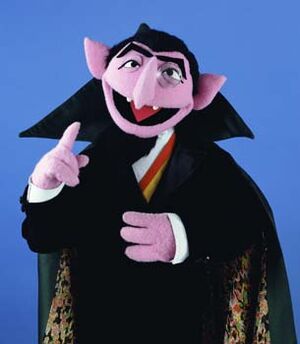 And he counts. Everything. As character catchphrases go, they don't get much better than "I love to count! Mwu ha hah."
For me, he is a soul mate.
My relationship to counting is not so much one of love as addiction. I can't help counting things. I feel a responsibility to the world, to make sure that things are adequately counted, so that it is known how many of them there are. That way, things will remain under control.
No doubt, that's why they tell women in labour to count the seconds between contractions.
Now those of you that know me, and know how much I love maths, might think that this is just a manifestation of that general phenomenon. But it's not. My love of maths is about depth, symmetry, harmony, aesthetics, the joy of finding a new pattern. Whereas my need to count is just a tic. I count steps when I'm jogging, magnets on a fridge, bricks on a wall. I do push ups on Tuesday and Saturday mornings just so that I can count them out loud in German – because that sounds so much more profound than counting them in English with an Australian accent. I count seconds between lightning and thunder, seconds of held breath when trying to dispel hiccups, and number of children in a class walking across the road on a school excursion.
In nothing is my need to count more apparent than in counting the storeys of multi-storey buildings. I put this down to growing up in Canberra in the seventies, when the only high-rise buildings in our known world were two office towers in Woden, of which I think one was about twenty storeys. Whenever I went there, I needed to count them again, just to make sure none of them had worn away or otherwise disappeared. It's odd then that I no longer remember how many there were. I'm sure it was at least twenty, and not more than twenty-five, but I can't tell you more than that. You'll have to go and count them yourself.
Those high rise buildings symbolised sophistication, cosmopolitanism, urbanity, everything that Canberra then wasn't. We even had a café owner that had to fight the council for years just to be allowed to have outdoor tables and chairs – something that must have been viewed suspiciously as Too European (meaning continental Europe, not Britain, which was Home) and in those days to be European was considered only one or two steps away from Communism.
But nevertheless, those Woden towers – so many storeys – my how grand! To a little boy, those big buildings in Woden were very exciting, although I never went inside one, and still haven't.
When I got bigger, I sometimes got to visit Sydney then, ultimately, came to live there. I thought it was amazing how many tall buildings they had. There were several skyscrapers, the largest being the Australia Square tower with fifty storeys. That ruled the roost for more than a decade, to be eventually surpassed in 1977 by the MLC Centre with sixty storeys. Like a true country bumpkin, I would walk up to the tower, look at the ground floor, then slowly tilt my head back until my gaze reached the top – a tiny point in the sky, seeming so far away.
But I didn't count the storeys. There was no point. You always lost track. Anyway, the really impressive thing was not these few skyscrapers, but that the average building in the CBD was at least four storeys high, often six or more. Coming from Canberra – a sea of one-storey bungalows – that was the real shock – that just ordinary street buildings could be so high. The fact that most of Sydney was a sea of boring bungalows just like Canberra didn't seem to matter when you were in the CBD.
So I started counting. For every building I passed I had to start at the bottom and count until I got to the top – was it five, six or seven? No, wait, there's a little penthouse, or a row of dormer windows just below the roof, so that's eight. Unbelievable!
I have lived in Sydney for more than half my life now, and worked in the CBD most days. But I still have to count any building with more than two floors. If it's more than four then I feel a small surge of pride – like 'that's proper urban that is'.
My family took me to Europe this last northern winter. We stayed on the fifth floor of an apartment building in Paris (that's sixth floor for Americans). I think there were seven floors altogether – the top one being attic style with windows peeking out through the dark-grey, zinc roof. In Paris nearly all buildings are between six and eight storeys, because it was all knocked down and re-built in a period of about twenty years under central control, directed by Baron Hausmann. You'd think I could have relaxed knowing that all the buildings were of height seven, give or take one but NO, I had to count most of them that we walked past, just to make sure. After all, if I didn't do it, what if nobody else did? Then it wouldn't have been counted and where would we be?
Same thing in London. At least there's a bit more variety in height there (don't tell anyone, but sometimes I wonder whether the much-praised uniformity of Paris's Hausmann streetscapes is just a little bit boring). And of course Liverpool.
Anyway, next time you are at a musical show and you just have to know how many chorus members there are, don't be shy. Go ahead and count them. Then tell your companions after the show. They'll be glad you did. Certainly the Count and I will.
Andrew Kirk
Bondi Junction, November 2018
---